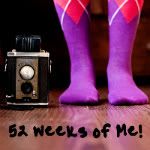 So, my photo this week is a little unorthodox.  We were outside playing in the snow today and I happened to notice that the light bouncing off the snow made quite the glare on the patio doors.  It seemed like as good a time as any to grab a shot.
Laziness at it's finest folks.  And, it's only week two!
Next week, we're going to Focus on the Eyes.