It's a hard life.    No really.  I paid for that cushy seat that I only spent 20 minutes in.  I spent Sunday morning in a continuing education class (real estate broker's license) and the class was at this super fab clubhouse at a new 'active senior' community.  As soon as I realized there was a pool and lounge chairs available, I headed straight there during our breaks.  It was a nice spot to catch up on emails and twitter.  And to bake in the sun for a few minutes.
Sunday, May 20th
So, my rose garden is mostly still rose bushes in pots.  This means regular watering is necessary.  This means the roses are lucky to still be alive.  This means that if I'm lucky, I'll keep them alive long enough to get them in the ground.  I did find this little lady hanging out on my bitty dogwood tree on Monday.  Ladybugs are probably the only creepy crawly that I will actually let touch me without a squeal.  They're too darn cute to scream at.
Monday, May 21st
Hubs wrecked his car on Monday.  He survived.  No injuries to him, just the car.  It's all patched up now, though he's lucky I didn't kill him.  Thankfully, my friend Sara was awesome enough to let me hitch a ride to and from work with her.  The downside was that everyone had to be up and moving much earlier than normal.  Somehow I managed to leave the house Tuesday without any coffee.  That's ok though.  I got to work and found cupcakes instead.  Breakfast is served!
Tuesday, May 22nd
I decided Wednesday that I need to take down my window screens.  It's not like we can ever have the windows open anyway.  Hubs is allergic to everything.  And, besides… it's messing up my view.
Wednesday, May 23rd
Cups so large that you could fit your head in them.  Not quite literally, but still.  Look how my rolled up silverware bundle pales in comparison.  Also, it's mandatory that whatever you fill them with is of a color not found in nature.  My poison of choice, Cherry Lemon Sundrop.
Thursday, May 24th
My little Dancin' Queen.  The recital is next weekend and Friday was picture day.  I'm waiting very impatiently to see what the photographer got.
Friday, May 25th
I had the brilliant idea Saturday to pack the kids up and head to the park for a picnic dinner ah la Bojangles.  Now, I love animals – very much – as does my girl, but I was not quite prepared to be stalked by the mallard family for my chicken.  Cannibal much?  If she'd have been any closer, she would have been in my lap.
Saturday, May 26th
All things considered, ya know – the car and all – we had a pretty good week.  The next few weeks are super busy for us, but I'm hoping to keep them as low key as possible.  Except for the wedding I have to photograph.  That has me scared out of my shorts.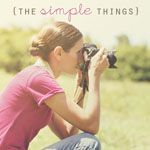 Happy Day my quaky friends!