Vacation is over 🙁  It's time to get back to reality and almost time for back to school!We were blessed with amazing weather last week, making it easy to get in lots of time on the beach.  We had a little rain early Sunday, but the sun came out and we hopped on the ferry to head to the
NC Aquarium at Fort Fisher
.  It's a great little aquarium and a super value as far as entertainment goes.  Four adults and 3 kids were all in for $50.  We got a chance to pet sharks (awesome!) and stepped inside a hurricane to see just what 78 mph winds feel like (when you're hot and sweaty, it feels awesome.)
One of our favorite things to do at the beach is riding the ferry.  It's $5 per car and worth every penny.  The ride from Southport to Fort Fisher takes about 25 minutes and the kids love the seagulls who stalk us the entire way.  We always buy snacks to feed them (their favorites seem to be those orange colored peanut butter crackers) and are amazed at how some of them just seem to hover over the ferry.  I'd like to smack tracking devices on them and see how many of them do nothing all day but fly back and forth between Southport and Fort Fisher.
(Sunday, August 12th)
My iPad and I had hoped to do some bonding over vacation.  That didn't work out quite like I planned.  I was woke nearly every morning by a little face and 'Can I play with your iPad?'  I did show off my mad tie dye skills with Tie Dye Doodle.  It was an 'I bought it for my kid' app and has turned into one of my favorites (right along with Where's My Water.)
(Monday, August 13th)
Don't let the cuteness fool you… They were like a wild bunch of hyenas.  We headed out to Spike's Dairy Bar in Southport for a little soft-serve Tuesday afternoon (soft-serve fudge ripple? Yes, please!)
(Tuesday, August 14th)
It's customary during vacation week for the hubs and I to sneak away for a solo dinner at
Mr. P's Bistro
.  That's the benefit of vacationing with family, folks!  There's always someone willing to watch the kids.  My sister and I took a canoeing trip through the marsh Wednesday morning and spent some time on Zeke's Island while my mom and hubs entertained the kids, then my mom and sister took a turn with the kids Wednesday evening for the hubs and I to head out for dinner.  After way more food than any two people should consume, we went for a walk through Southport, saw a film crew shooting at the Yacht Basin and stopped to grab a quick shot of the sun hanging low in the sky.
(Wednesday, August 15th)
Thursday was a day for the beach.  It was a bit warmer than it had been the rest of the week, but that was ok.  The house we rented had two gorgeous decks off the front, both of which gave us great views of the ocean and the colors the were constantly hanging in the sky.  I could live here.  Every. Single. Day.
(Thursday, August 16th)
Where have I been?  These are the best snack ever!  I'm going to figure out some way to turn these into an amazing dessert.  Mark my words.  I will need to buy another box first…
(Friday, August 17th)
Saturday was a driving day.  Granted, it's only a 4 hour trip, but between packing the car and kids that need something every 5 minutes, it feels like forever.  What really felt like forever though was the distance we had to travel to find a Starbucks.  By the time we hit one, we were only an hour from home and I was really past the point of wanting to stop again.  When we got to the house, I pulled out my Keurig, gave it a little squeeze and promptly made myself some coffee.
(Saturday, August 18th)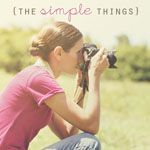 We're already booked for vacation 2013, and though I don't want to wish my life away, I know I'm not the only one counting down.  My little guy keeps telling me 'I had a great vacation' and asking how many sleeps before we go again.
How many of you are counting down to something this year or next?  What's your 'destination'?