It's Sunday, we're all coming down from our Thanksgiving turkey high, and tomorrow life will go back to normal.
At least for most of us.
Not everyone has the luxury of normal these days.  In fact, normal comes to a screeching halt for someone every day.  In late October, normal ceased to exist for many people in the northeast US – Especially New York and New Jersey.  While we celebrated Thanksgiving, many residents of both great states still wondered when or if they'd ever be able to live in their homes again.  While we talked about Thanksgivings past, maybe even pulled out a photo album or two, they wondered what it would be like to hold their photo albums one more time.  While we shared potato salad and rolls with our Aunts and Uncles, some wondered what it would be like to see a loved one lost to Sandy just one more time.
That is their new normal – at least for now – and it sucks.
Life changed in a very hard way for a family local to me this Thanksgiving.  Their 7 year old son lost his life in an ATV accident on the family's property.  His mother is a Kindergarten teacher at my daughter's school.  Our community, their church family and the school are rallying around them to support them in any way they can, but Thanksgiving will never be the same for their family.
Tragedy – death or otherwise – brings us together.
There are times where we feel like there's nothing we can do to help someone in need, be it a physical or emotional need, but that's where we're wrong.  Sometimes, it's the smallest – the simplest – of acts that make all of the difference.  When my best friend Lara died in May, my friend Ellen had a lovely necklace made to remind me of her.  I need the necklace.  Really, there was nothing I needed that anyone could give, but the heart – the love behind Ellen's gift meant the world to me.
When someone near me is hurting, I don't often know what to do.  Those who know me well know that I'm not a touchy-feely person.  The one thing I do know how to do is cook.  It's my go-to, my way to help.  I know I can't do anything to physically ease the suffering anyone is facing, but I can give them some comfort while they go through it.  One of my most requested dishes is potato salad.  For some reason, it seems to make everyone happy.  And that makes me happy.
This potato salad is so simple, it's silly.  Maybe that's why everyone loves it so much.  I love it because most of the prep can be done a day ahead.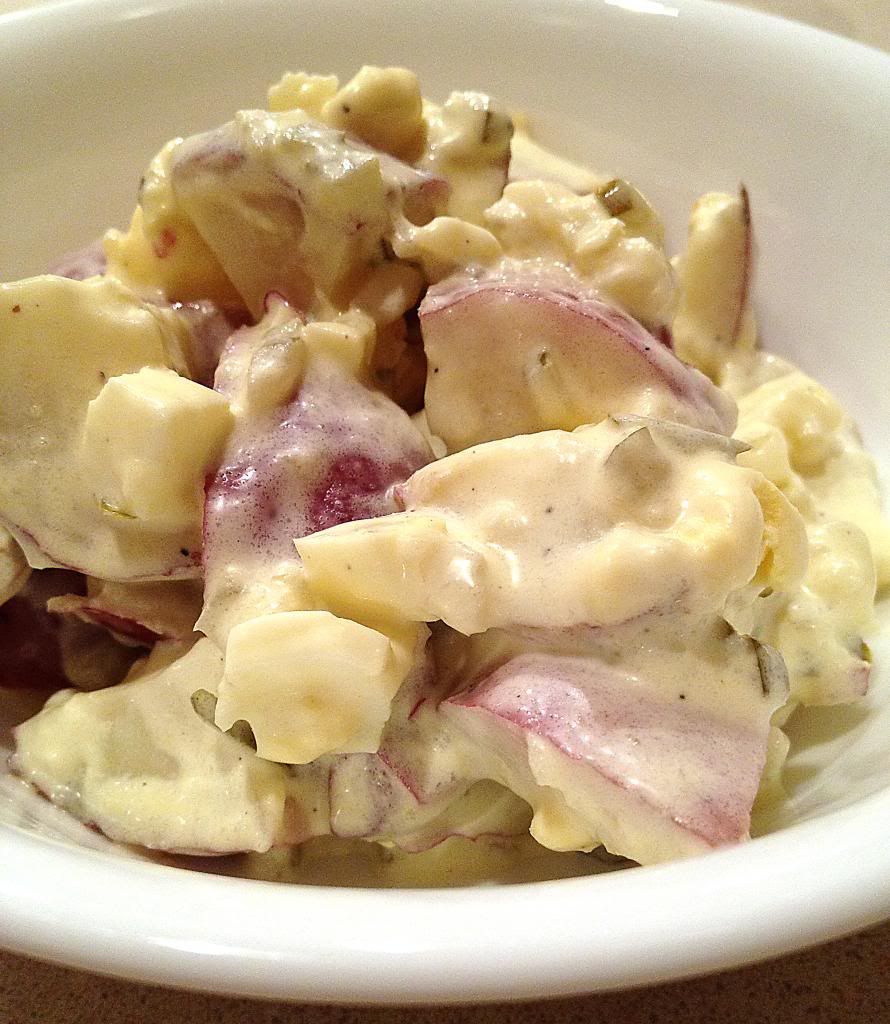 Simple Southern Red Potato Salad
3 lbs Baby Red Potatoes
6 eggs
1 cup diced sweet onion
1 jar dill pickle cubes, drained
1-1/2 cups mayo
4 Tablespoons yellow mustard
salt and pepper, to taste
1) Scrub and cube 3 lbs of Baby Red Potatoes.  The cubes should be about 1/2 inch.  Cover with water in a large pot and boil for 15-20 minutes until tender.  Drain.
2) Place 6 eggs into a stock pot.  Cover with water and bring to a rapid boil.  Cover and cut off the heat.  Allow to sit on the burner for 15 minutes.  Drain.  Allow to cool.  Peel and chop.
3) Peel and dice a small sweet onion.  It should yield approximately 1/2 cup.
***stop here***
If you want to serve a warm potato salad, continue on.  If you want to serve a cold potato salad, refrigerate everything overnight and finish assembling about 30 minutes before serving.
***
 Mix potatoes, egg, onion, dill cubes, mayo and mustard.  Taste for seasonings.  Add salt and pepper to taste.
I love my potato salad for a number of reasons.  First – it's simple and I like things that are simple.  Second – It has dill cubes, not sweet relish.  Third – It's versatile enough to be served hot or cold.
My potato salad may not be able to ease the pain of a mom missing her son, or even touch the millions of people feeling a loss after Sandy, but it can give comfort to my own family any time we're together.If you feel inclined to do so, there are organizations out there who'd love your help in aiding the victims of Sandy through your monetary donations.  The #SundaySupper team is coming together this week to help spread the word!  You can check two of them out below.
As always, the #SundaySupper team has churned out some great recipes this week – recipes that they cook from their heart.  Stop by and check them out.
Comforting Casseroles and Entrées:
Sweet Endings:
 As always, you'll find us on Twitter through out the day and specifically at 7 pm EST discussing Sandy, the relief efforts and how we try to be #HelpingHands.  Stop by and join the conversation.
When you feel the urge to help someone in need, what's your favorite way to contribute?