There is nothing cuter than a little girl twirling around without a care in the world.  I should know, Addison does it all the time.
As easy as it is to make a tiered dress, every little girl should have one.  If you have a basic sewing machine, and know what a straight stitch is, you can make a tiered skirt or dress.  The basic steps are the same for both, but with the dress you'll be ditching the elastic and adding a plain t-shirt to the equation.  
This is the dress I made for Addison almost 2 years ago.  She still years it a lot.  Even when it's far too hot for long sleeves. 
First things first, you need to take some measurements.  You need measurements for the following:
Waist to knee (or approximately where ever you want the hem to hit)
Waist
Under arm to waist
The Waist measurement x 2 will equal the length of your top tier.  Each subsequent tier will be equal to twice the length of the tier above it (example below)
The height of each tier is calculated as follows: Waist to Knee (hemline) / 3 + .5 (seam allowance)
For example, my Addison's waist was about 20 inches and I wanted the waist to hemline measurement to be 21 inches.  
Tier 1: 20 x 2 = 40 (length of first tier)  and 21 / 3 = 7 + .5  = 7.5 (height of each tier)
Tier 2: 40 (length of first tier) x 2 = 80 and height stays at 7.5
Tier 3: 80 (length of second tier) x 2 = 160 and height stays at 7.5
You can use a rotary cutter for this is you want, but sometimes I prefer scissors.
It's really not practical to cut a 160 x 7.5 piece of fabric, so I cut 40″ x 7.5″ strips and sewed them together.  You can add a seam allowance if you choose, but the tiny difference will not matter to your end result.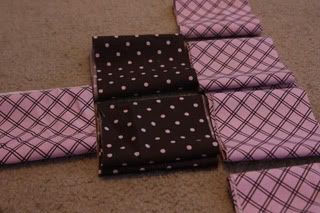 I ended up with (1) 40 x 7.5 strip for my top tier, (2) 40 x 7.5 strips for my second tier and (4) 40 x 7.5 strips for my third and final tier.  
You'll want to sew the strips together for each tier to get one long strip per tier.  I'm using a serger, but a straight stitch works fine.  You'll end up with some fraying when you wash, but that's ok.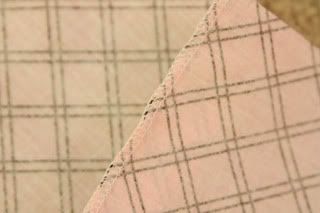 Matching up the pattern really isn't an issue.  The way the skirt lays when all is said and done will hide most imperfections.  When you've sewn the ends together, what you now have should look like this:
 I've found that working from the bottom up works best.  Take your longest strip of fabric and run a very loose straight stitch about 1/4 inch from the edge along the length of the strip.  This is how we'll gather.  Starting on either end, piece of thread tight while sliding the fabric along it to gather.  Continue working the fabric down the thread until you've condensed the strip to about half of it's original length.  Next, line up the top of your gathered strip with the bottom of the next tier up.  At this point you may need to gather more or loosen your gather to match up the entire length of the two fabrics.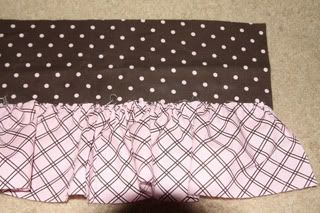 Laying the strip for the second tier on top of the gathered tier, with the right sides together, pin and sew the two tiers.  When you're finished, you should have this: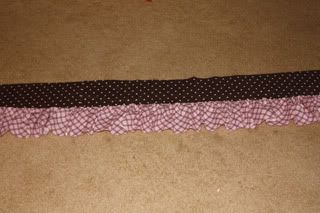 Now, you're basically going to repeat this process, starting with a loose straight stitch across the top of the second tier.  You can see where I've made my straight stitch in the picture below.
You're going to gather the second tier to the length of the first, pin and sew just like we did with the second and third tiers.
Once all of your tiers are sewn together, you're going to close up the skirt by sewing the ends together.  You'll end up with this: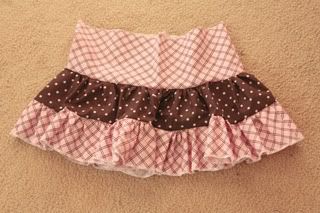 At this point, if you want a skirt rather than a dress, you'll flip the skirt inside out, turn down the waist to sew a pocket for elastic and thread the elastic in.  But, today we're doing a dress…
I picked up a solid, matching long-sleeved shirt at Wal-mart for $3.50.  Here's where that measurement from underarm to waist comes in…  You'll want to add 1/4 inch to the measurement you took earlier and mark that measurement on the shirt, measuring from the underarm of the shirt down.  Cut your shirt off there, taking off the excess length.
Just like we did before, run a long straight stitch around the waist of the skirt.  Be careful not to overlap your ending stitches with where you started.  I usually try to stop about an inch before I get to where I started.  Gather the top tier until it's about the same size as the bottom opening of the shirt.  You're going to flip the skirt inside out, work the shirt underneath and pin the top of the skirt to the bottom of the shirt.  Now, sew these two together just like you did the other tiers.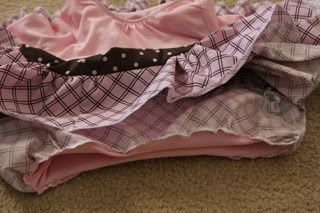 Trim all of your loose ends and turn everything right side out and …you're finished!
What do you think?  Have you made a tiered skirt or dress for a special little lady?
Please feel free to contact me with questions.  I'm always happy to help!